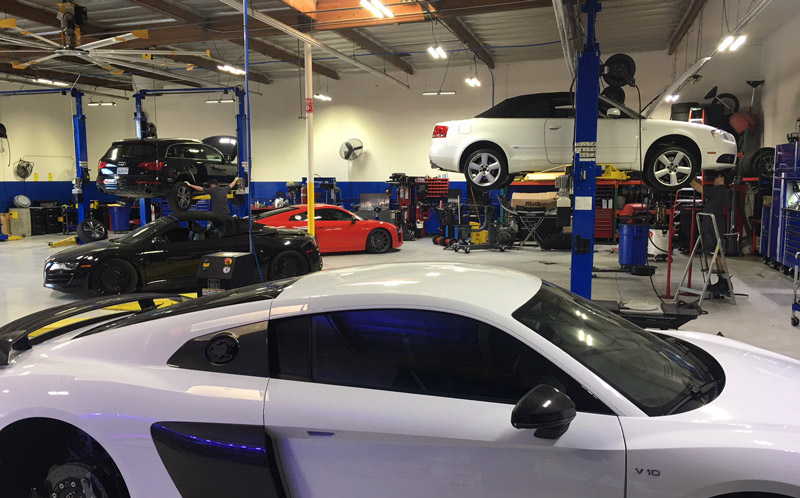 I recently found myself with the unenviable task of having to find a shop to perform an oil change and oil level sensor swap on my R8. I've never had a car this nice so the search carried with it a lot more weight given the R8's level of sophistication and price.
Finding a reputable shop that charges fair rates can sometimes be a lot more harder than it should be, regardless of the car involved. Add in that the car is an exotic and it becomes absolutely critical.
So, I set out into the world to find a shop I could trust…Here's what happened.
Audi Dealers:
Mission Viejo Audi…left a voicemail. They never called me back. Audi Carlsbad actually answered their phone but it almost didn't matter: $768 just for an oil change?! Would I like to schedule an appointment? I told the person on the other end they could pencil me in for 5 minutes so I could swing by and laugh at them in person. Certainly not nice, but quoting $768 for an oil change kind of invites that response.
Independents:
I called a "German Car Specialist" in San Clemente who told me he had experience with R8's and that the job would be no problem. He took my info and said he'd call me back at the end of the day with a quote and a time he could perform the work. I never heard back from him.
That brings me to Pacific German in Laguna Hills. I found them on Google, their web site looked legit so I gave them a ring.
I spoke with Shawn Setterstrom who's the owner. He asked that I submit a quote request on their site and they'd get back to me with an itemized estimate. 20 minutes after clicking "Submit" I had just that in my inbox. All costs were broken out and in plain english. I called back and spoke with Travis who scheduled me for the next morning. Could it really be this easy?
Yup…
I brought the R8 at 9am (they open at 8) and they got right to work on it while I hung out in their great lobby. Free wifi, a coffee machine, bottled water, cable TV (that I could control!) and more importantly , a clear view into their work area. In that area sat 3 x V10 Audi R8's, a sweet Porsche 964-gen 911 and a few other nice cars that clearly illustrated this place was the real deal. Word about high-end shops that do crap work travels faster than an Aventador on full tilt so the fact that they were jammed with expensive rides was proof positive that Pacific German is a place folks trust.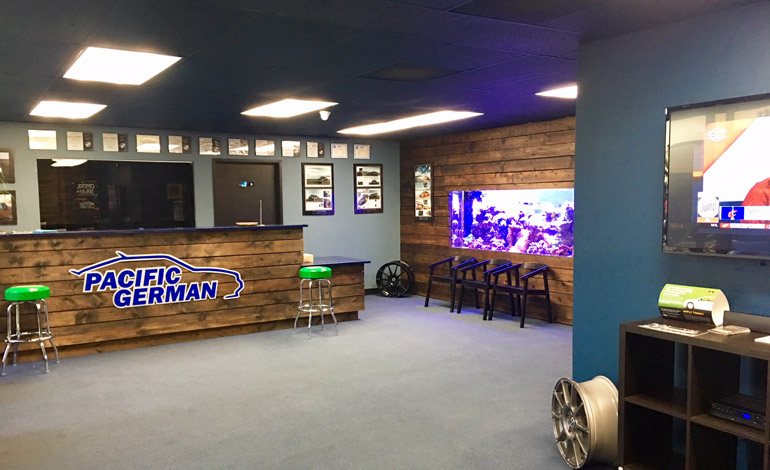 I was in and out in the time they quoted and paid the (fair) price that was on their estimate. This should be how repair shops should all operate but in a world where they just don't, my experience with Pacific German was, in a word, awesome. They have my trust.
As their name suggests, Pacific German deals in all of the German marquees and do everything from scheduled maintenance to big-boy performance mods. If I decide to keep my R8, I may find myself back here in short order to add an exhaust.
If you've got a German car and are looking for a good shop, I'd recommend you give these guys a look.