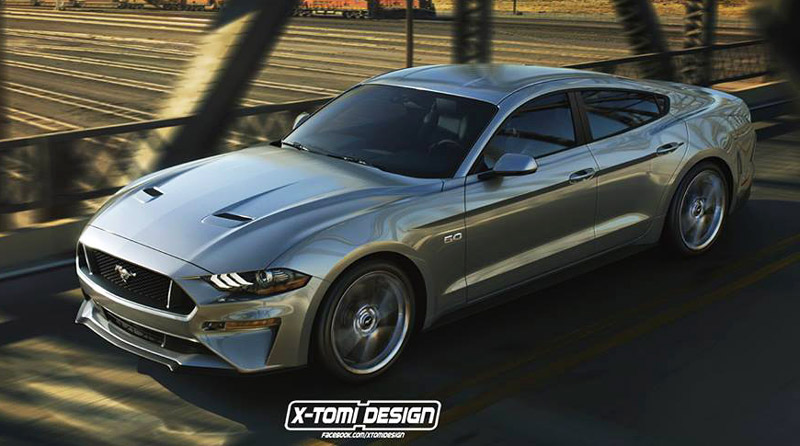 I'd recently been thinking of selling my Audi R8 and Hyundai Genesis Sedan and replacing them with a single vehicle. So I set about making a list of the cars that could cover the dual duties of being a quick sports car as well as a child-chauffering sedan that I'd actually want to own.
After countless hours of exhaustive research (read: Craigslist and Autotrader) and soul searching, my list was finally complete. It included many of the usual suspects that most car enthusiasts would knee-jerk towards, but what struck me more at the end of this exercise weren't the the cars that made the list…it was one that wasn't even in contention as it doesn't exist: a 4-door Ford Mustang
Chevy has (or had) the SS. Dodge has the Charger SRT8 and Hellcat. Cadillac, the CTS-V. Hell, even Kia's at the party now with their shiny new Stinger.
Where's Ford in all this?
The latest Mustang GT is a great looking car that puts up SERIOUS performance numbers that straight up murder cars anywhere near its price range. Why not stretch it a few more inches and add a couple more doors?
Did the sales failures of the Pontiac G8 and its second-coming Chevy SS scare them off? Don't they want in on some of that sweet sweet SRT8/Hellcat money? Will the Mustang's platform not stretch that extra few inches? Seriously, what gives?!
The 2018 Ford Mustang GT starts at $35k. It's my opinion that if they offered a 4-door varient that came in at just under $40k they'd sell as many as they could make.
As mentioned above, there are of course options in this market space, but a 4-door Mustang would trump them all:
The Chevy SS was just too damn bland and only came loaded (read: expensive)
The Charger Hellcat is for sure a barn-burner but it just looks too large and gawky from the side for my tastes.
Even used Audi S7 and Porsche Panamera S's, while awesome, are still not easy on the wallet.
And no, I don't want a Mercedes or BMW…too predictable here in the OC.
A great-looking American sports sedan that started at $39,995, did 0-60 in the low 4's and sounded like a holy terror when provoked would be a revalation…no….it would be a REVOLUTION!
Take a look at that awesome rendering by X-Tomi Design. I would fork over my money for that in a heartbeat and I know I'm not alone.
C'mon Ford…grab a mitt and get in the game!