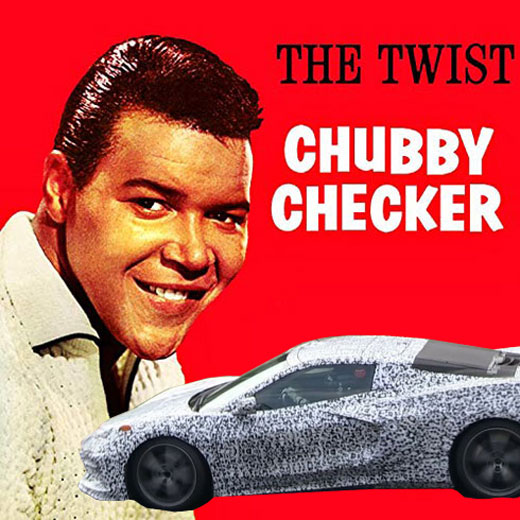 If you're old like me, you may remember a famous dance song from 1960 called The Twist by Chubby Checker. "C'Mon baby! Let's do the twist!" was the big chorus. People loved it, everyone danced to it…things were just dandy. Chubby Checker was the man.
Now, while twisting the night away on a dance floor might be a perfectly acceptable practice after a long work week, one place where twisting isn't as highly regarded is in the chassis of a mid-engined sports car…specifically, the upcoming, highly anticipated, Chevrolet C8 Corvette.
The Chevy C8 Corvette is a monumentally historic vehicle as it'll be the first Corvette with the engine in the middle, just like the Corvette's creator Zora Arkus-Duntov always wanted. For an American brand to take on the Italians at their own game is kind of a big deal. And yeah, Ford has done this a few times now with their Ford GT, but the C8 Corvette will be different in that its supposed to be wayyyy less expensive. An "affordable" super car if you will. A big greasy American middle finger to the hoity toity crowd from Italy.
But it's debut has been delayed a few times now and we're hearing rumors on why: chassis flex.
Apparently, during performance testing with the massively powerful twin-turbo V8 (rumored to be in the 900-1000hp ballpark) that is supposed to grace the upper-tier version of the car, the aluminum chassis flexed so much that it fractured the rear glass. That's a lot of twist y'all. And for a car with this level of importance, potentially disastrous. Simply put, the C8 Corvette needs to be as close to perfect as possible when it hits dealer floors and flex is not an option…the Corvette brand doesn't need another f-up a la the overheating Z06's from a few years back.
Thankfully, Chevy is doing to right thing and nipping this in the butt prior to its debut. That is what testing is for after all. I think we can all wait a few more months if it means we get a car that performs as well as I believe it's going to look.
Oh, and they're working out some electrical bugs as well, but that's not nearly as exciting as chassis flex so I left it out 😉
Images: Hagerty via PhotoShop